Introduction to Applixure Workflow
What is Workflow?
Applixure Workflow is a companion product for Applixure DEXI Platform that has been designed for the customers managing multiple Applixure Environments - be that an end-customer organisations for Managed Service Providers (MSPs) or multiple internal environments for corporate customers - across which those customers would like to track certain important metrics.
With base Applixure platform this requires that you would have to log into each one by one, and search the things you are interested about. Alternatively, you could use our public API to fetch data from each environment into some external database against which you can then run the reports or searches.
Using Workflow, you can easily and in very staightforward manner enable an operational model wherein the Workflow automatically surfaces those findings in the data and keeps track of the progress of handling the fix for the deviations, until the case is closed based on the Applixure's data.
As an example, for MSPs the things you are interested could be specific agreed upon concrete datapoints - or basedline requirements - defined in your SLAs against the end customer organisations. With the Workflow product you yourselves decide what you want to track from the data that Applixure provides.
Look and feel
As solution for managing data from multiple Applixure environments, UI-wise Workflow is implemented as Kanban -type board which aggregates data from all of your environments into single view.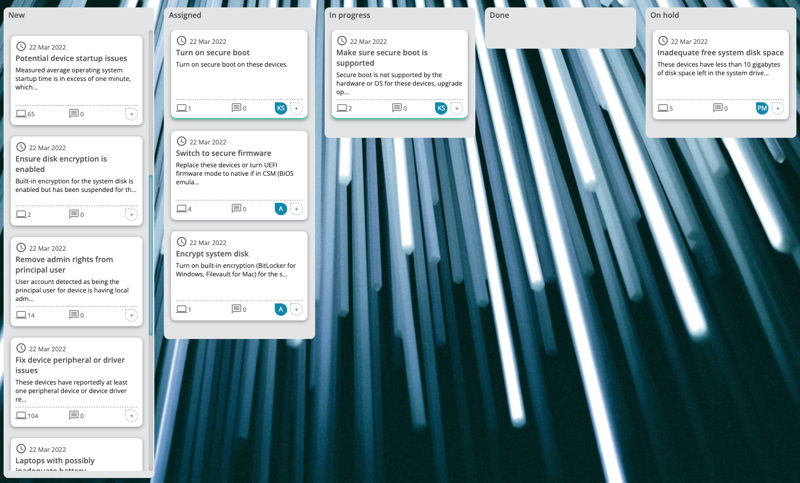 You can log on in to your Workflow board at https://workflow.applixure.com.
Getting started
Using Applixure Workflow requires that you are already using the base Applixure platform to gather data from your computers as the Workflow's functionality is built on top of Applixure's data. Once you have Applixure, you are ready to go with Workflow too!
To get started with Workflow, contact our sales to enable Workflow for your Applixure account after which you can do the one-time onboarding process of connecting Workflow to your Applixure account, using the following easy steps:
Log on to the Workflow using Applixure user account that has Full account administrator -permissions for your Applixure account.

Workflow will need these permissions to do initial connection setup by adding API key to your Applixure account for further background access for synchronizing the data on an ongoing basis. After onboarding, Applixure user accounts added as users to Workflow use Workflow's account and board roles to manage permissions.

If you user account has sufficient permissions, Workflow will confirm if you want to proceed with onboarding your Applixure account to the Workflow.


Press Continue button to proceed onboarding.

Once Workflow has completed the onboarding you can click Continue to start using Workflow!